Cybersecurity has become more and more important in recent years, not just for individuals but also for companies. Production data, especially when used in a company-wide information system to optimize processes and production, is a hugely valuable asset that needs to be secured and protected. When digitizing their production or looking into new services and business models, machine builders often work with specialists in the field of industrial automation that provide them with a solution for collecting, processing, storing, forwarding, and securing their data. These solutions need to be designed following best practices and the highest safety standards.
Protecting valuable industrial data: the IEC 62443 standard
When looking for a supplier, machine builders can rely on internationally recognized standards and certifications. In the realm of cybersecurity for the industrial sector, the most important standard for Industry 4.0 is IEC 62443. This set of standards addresses organization and processes, systems and components, and also process-related and functional requirements for IT security in industrial communication networks. Find out more: https://www.tuev-nord.de/en/company/certification/product-certification/functional-safety/certification-according-to-iec-62443/
TTTech Industrial's IEC 62443 certification
TTTech Industrial's Nerve is an IIoT platform for machine builders that provides the base for customers' IIoT solutions. It consists of node software running on edge devices and a management system running either on premise or in the cloud. While the system can run offline as well as online, most companies need access to data from machines on the shop floor or even across factories, not only for processing immediately, but also for analysis or storage. Customers need to be able to rely on their suppliers not only for technology but also for security features. TTTech Industrial submitted its development and production processes for certification according to IEC 62243-4-1 and was certified in May 2023. "Cybersecurity is a key topic for the IIoT because connectivity increases the potential risk for users. In the case of cloud platforms, we trust providers to have mature cybersecurity features in place to protect the data of individuals and companies. When it comes to applications within the factory, it is up to suppliers like us to provide secure solutions. At TTTech Industrial, we have undertaken huge efforts regarding cybersecurity. Our processes are certified according to IEC 62443 so our customers know that they can rely on our solutions," explains Herbert Hufnagl, General Manager and Member of the Executive Board, TTTech Industrial.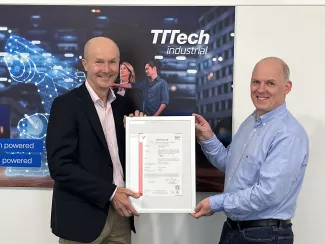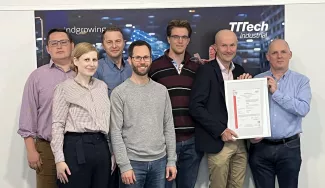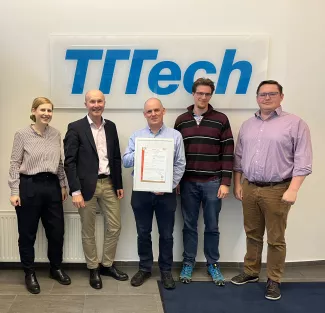 What customers can expect from TTTech Industrial
At TTTech Industrial, we understand the challenges machine builders face in creating secure and efficient systems for their customers. With our certification, we want to show machine builders they can rely on our expertise and secure solutions for their business case. We offer:
1) Compliance with IEC 62443-4-1
IEC 62443-4-1 is one of the IEC 62443 sub-standards that relates to secure product development lifecycle requirements. The certification shows TTTech Industrial's strong commitment to security and our dedication to providing products that adhere to stringent cybersecurity standards. Machine builders that use our IIoT platform Nerve can offer solutions to their customers that meet the highest security requirements. In Austria, TTTech Industrial is one of only two companies that are currently certified according to IEC 62443-4-1.
2) Enhanced security measures
Our IEC 62443-4-1 certification ensures that machine builders have access to state-of-the-art security measures. These measures guarantee that data from industrial machines and systems is protected from unauthorized access and potential cyber threats. Machine builders using our IIoT platform Nerve, developed according to IEC 62443-4-1 certified processes, can thus ensure that their customers' data is kept safe and production processes run smoothly.
Our cloud-managed edge computing platform Nerve
Nerve is an asset for machine builders. By leveraging the power of edge computing, machine builders can process data closer to the source, enabling real-time decision-making and reducing latency. With Nerve, machine builders can seamlessly deploy and manage edge applications, taking advantage of our expertise in connectivity, cybersecurity, and real-time computing. This allows machine builders to focus on their core competencies while relying on Nerve's secure infrastructure and feature sets that can be selected to match the company's specific business case.
4) Scalability and flexibility
At TTTech Industrial, we recognize the importance of scalability and flexibility for machine builders. Our Nerve platform allows machine builders to adapt to evolving customer needs and industry trends. With Nerve, machine builders can easily scale their solutions, from a single machine to an entire production line, while maintaining centralized management and monitoring capabilities. This flexibility ensures that machine builders can quickly respond to customer demands and market changes, driving innovation and long-term success.
5) Improved operational efficiency
At TTTech Industrial, we are dedicated to supporting machine builders in delivering secure, efficient, and cutting-edge solutions. With our IEC 62443-4-1 certification and our cloud-managed edge computing platform Nerve, machine builders can unlock a host of benefits. These advantages encompass compliance with cybersecurity standards, enhanced security measures, scalability, flexibility, and improved operational efficiency. By partnering with TTTech Industrial, machine builders can harness our expertise, leverage our innovative solutions, and pave the way for success in the rapidly evolving machine-building industry.
Further reading
• Find out more about our quality standards here.
• Find out more about IEC 62443-4-1
• Discover Nerve, the IIoT platform for machine builders
• Get in touch with us if you want to know more about Nerve or TTTech Industrial's IEC 62443-4-1 certification