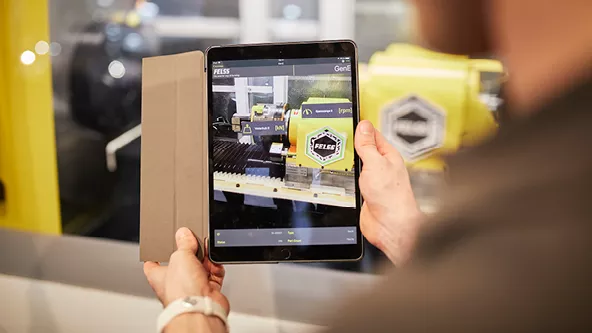 In an article for the September edition of SPS Magazin, Salomé Christiani, Product Manager Industrial IoT, details how Felss uses our edge computing platform Nerve for flexible and resource-efficient processes. The focus was on Felss' current project for tool wear detection.
"With the program for wear detection we will significantly reduce production waste in the future," says Dr.-Ing. Nadezda Missal, Team Leader Process Innovation at Felss.
Felss produces robust components in complex geometries for several industries. As tool wear can directly impact the quality of components, it is vital for Felss to continuously monitor tooling for signs of wear. The required data is collected at the machine and processed in real-time on Nerve.
The article talks about the development of Felss' analysis program for wear detection and how Nerve is used in this project, as well as highlighting how edge computing can be used in the future as a building block for new Smart Services.
Markus Preisinger, Team Leader Software Development at Felss, states, "We see Smart Services as an important line of business for our company. Nerve offers us exactly the features and functionalities that we need for the development of our use cases and services."
Read the full article "Ausschuss runter, Wirtschaftlichkeit rauf: mit Edge-Computing Werkzeugverschleiß frühzeitig erkennen" (in German language) in print or online:
Find out more: