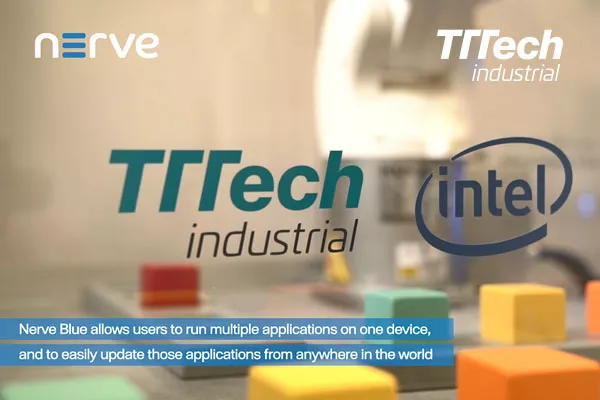 TTTech Industrial is showing off the capabilities of its Nerve edge computing platform with a new robot control demonstrator. The demo, built in partnership with Intel, shows how users can actively create new control applications for one robot that can then be saved and deployed to other robots around the world with the click of a button via the Nerve management system.
Flexibility is a major factor driving the future of manufacturing. Setting up production lines today can be time-consuming and expensive, but plant operators are searching for solutions that enable them to reconfigure manufacturing processes quickly and easily. A common software infrastructure for machines enables manufacturers to test and run control applications on one machine, that can then be deployed effortlessly to other machines in the same line or even in other factories. Nerve has been developed to provide this functionality and much more, giving machine builders and plant operators a more flexible and open platform on which to run industrial software and applications.
The robot demo shows just one of many potential use cases for Nerve. It clearly illustrates how Nerve provides a platform for critical machine infrastructure such as control programs that require real-time guarantees. Bringing real-time capabilities to edge computing ensures that users are able to benefit from the full range of features that Nerve provides including direct data access, workload consolidation, and remote software management.
See the video of the demo below to understand how Nerve can be applied to different types of machinery in a variety of production situations. Afterwards, take a look at our case studies to discover how customers are using Nerve with their machines.