Updated version of TTTech Industrial's successful edge computing software Nerve released in April
Nerve reduces system complexity and cost, improves machine performance, and offers innovative new services to customers
Nerve enables remote access to data from machines installed anywhere in the world
Nerve is hardware-independent, running on standard industrial PCs

Vienna, Austria, May 6, 2020 – Pioneering international machine and plant manufacturing company Fill is the first to upgrade to the latest version of Nerve, released in April 2020. Nerve software enables users to gain insights into industrial processes and make decisions based on data gathered from machines around the world. With Nerve, data is accessed directly from the machine, and then stored, processed and analyzed either at the device, on a local server or in the cloud.
Fill, headquartered in Austria, developed its Cybernetics smart factory solution in order to increase the profitability and quality of its machine tooling products. Nerve is used to transfer data from machines installed at customer sites to the Cybernetics platform. It allows Fill to use global datasets to check, for example, the wear that particular machine parts are subject to across the entire machinery fleet. Customers are informed, among other things, about critical machine states, so that they can plan maintenance, estimate outputs and consequently reduce cost.
"When we began developing Cybernetics, we searched for a supplier who could provide a complete solution for the central management of our machine and analytics software. We wanted an open platform without proprietary interfaces. Nerve fit the bill. It offers us high-performance data access in real-time to reliably connect machines worldwide and lets us host our own software applications. Working with our existing hardware and system environment enabled us to reduce cost and focus on our core competences," says Stefan Murauer, Team Leader Software at Fill.
Complete solution for secure machine data management and connectivity
"We are delighted that Fill has chosen Nerve as its machine software solution. Fill sees the potential with Nerve to reduce system cost, improve machine performance and offer innovative new services. Using Nerve, our customers benefit from an open platform that meets the requirements of today's industrial IoT environment, where performance, cost and connectivity are the key factors for success," says Wolfgang Leindecker, Member of the Executive Board at TTTech Industrial.
Nerve is an open software platform that now runs any standard industrial PCs with an Intel Atom processor or upwards. This allows customers to leverage existing hardware installations, saving time and cost. The latest release of Nerve adds functionality that allows developers to prepare and check applications and updates before being made available for roll-out to service technicians, which helps to prevent errors in machine upgrades. The remote access feature allows software and applications installed on machines to be checked and updated via the web-based management system from anywhere in the world. This enables fast, flexible support even for locations that are far away or difficult to access and helps to reduce maintenance costs.
Image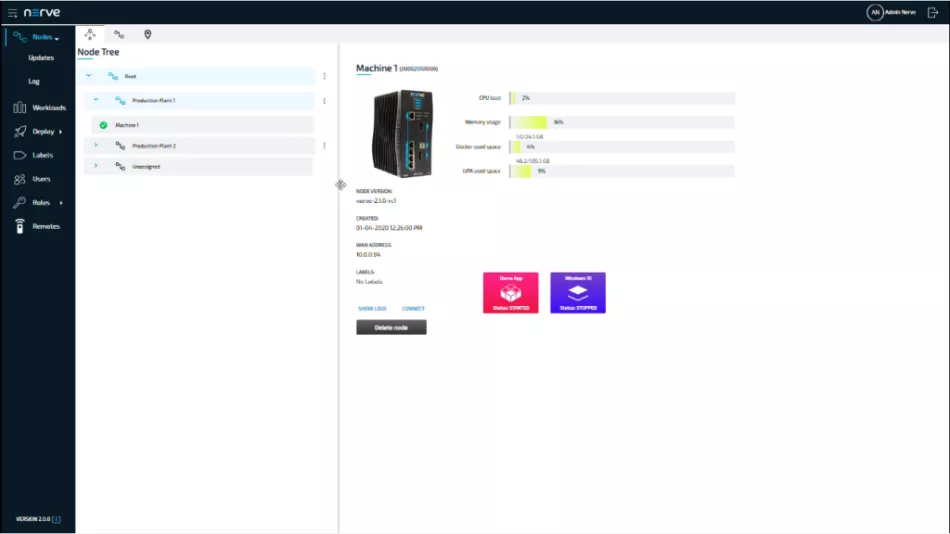 TTTech Industrial's Nerve enables data connectivity, software management and virtualization. (© TTTech Industrial)