Today's highly efficient and reliable energy networks, wind turbines and energy storage solutions require increased automation capabilities to support data handling from more and more sources used for a wide range of applications, from supply planning to predictive maintenance. TTTech Industrial uses its expertise and know-how in industrial automation to provide robust and reliable connectivity solutions that strengthen its customers' leading position in the industry. Its solutions are applied among others in substation automation and energy management, and the renewable energy sector for a variety of different use cases.
Reliable access to energy from renewable sources
Renewable energy generated from solar power, wind and water is vital to help address global warming and ensure supply reliability. However, these energy sources are either not available at all times (e.g. due to weather fluctuations) and/or the amount of energy generated might also fluctuate. New, innovative solutions address this challenge, allowing energy to be stored securely over longer periods of time and to be fed back into the energy network on demand.
According to studies, the global market for energy storage systems is likely to reach a volume of US$ 435 billion in 2030 with steady growth rates in the coming years. New technology and developments support the rising demand for these systems, which is driven by the increased use of clean, renewable energy sources, the need for efficient grid management and supply reliability as well as markets like electric vehicles.
Digitalization plays a huge part in realizing the full potential of energy storage solutions, as they need access to machine data across many different locations and from different devices to monitor performance. An open, extensible software control system is a must to enable smart services, secure remote control and software management to continuously optimize process parameters.
Another important capability for these type of applications is offline operation. Energy storage is often carried out in remote locations, close to where the energy is generated, without connection to the electricity grid and without (reliable) access to the Internet. Energy supply is part of a country's critical infrastructure, therefore these systems may only be maintained and serviced by accredited personnel and the ability to limit access at a granular level is a prerequisite.
Further reading
IIoT solution for energy storage
TTTech Industrial's customer GKN Hydrogen specializes in environmentally friendly, safe and compact hydrogen energy storage solutions based on metal hydrides (chemical compounds of metal and hydrogen). The system generates hydrogen when renewable energy is available, stores it and converts it back into electrical energy on demand.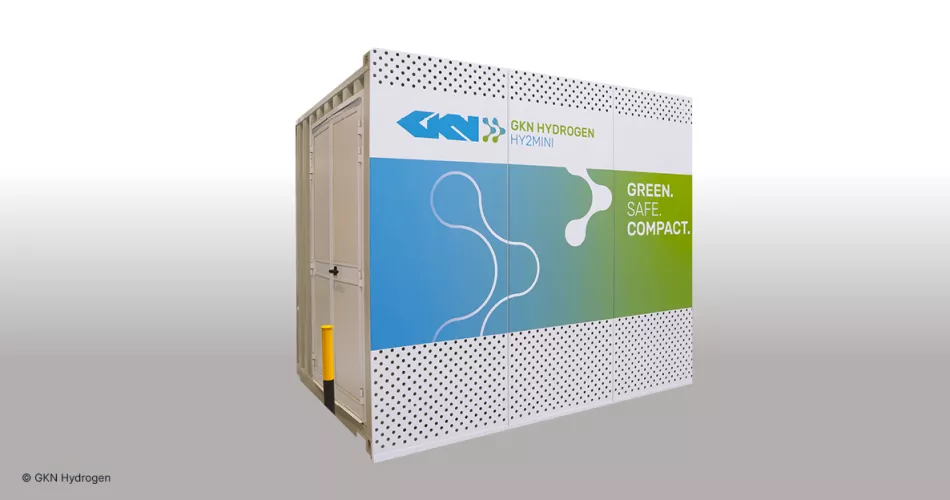 Modern, hydrogen-based energy storage system (© GKN Hydrogen)
GKN Hydrogen needed an edge computing solution for its customers that enabled the management and monitoring of energy storage systems from every location worldwide while also simultaneously allowing for local data buffering and user access directly at the device, without the need for an Internet connection. GKN Hydrogen chose Nerve, because it provides an open, flexible, and extensible solution with a set of built-in security features that ensures secure system operation and production data security.
Nerve is installed on the industrial PCs that are integrated into the energy storage solutions and connected to the Nerve Management System. The supplier of the energy storage solution can use Nerve's software management functions to execute its application directly on the customers' premises. This allows monitoring and management of the energy storage systems even when no wired Internet is available – WiFi and a mobile device or a computer are sufficient.
Depending on their requirements, providers of energy storage could also use Nerve as part of a predictive maintenance solution that gathers data to trigger alerts related to component wear or damages, or as a means to facilitate remote services. Get in touch with our team to find out more about how we can support you or check out our free trial of Nerve.
Find out more